As we progressed thru 2020 and 2021 we changed, we learned and grew from the challenges.
We now know not everyone needs or wants an in-person appointment. That's why Match & Ship was launched.
Here is how Match & Ship works:
Send us a photo so we can see your color, length, style and texture.
From our main inventory of European Hair wigs, we will select 1-3 raw (uncut and unstyled) wigs that are nice matches to your photo.
We will email you a photo of the wig(s) we selected for you showing the comparison to your own hair.
If you are interested in seeing the wig(s) in person, we will ship the choices to you on SPEC. We can conduct a virtual appointment to answer any questions you may have after you receive your delivery.
You can work with your own stylist to cut and style the wig you choose or send it back to us for customization.
If none of the choices work out for you, we will provide a prepaid return shipping label for you to send the wig(s) back by an agreed upon date. Once we receive the returned wigs, your credit card will be refunded minus shipping/insurance charges within 1-3 days.
We are committed to offering unparalleled quality and exceptional pricing. Most of the wigs in our European hair collection are priced in the $2,000s. We sell our European hair wigs for thousands of dollars less than most high end wig retailers. It is not uncommon to see European Hair wigs priced from $4,000 – to over $8,000 for longer lengths at other retailers. We strive to keep our collection well priced and offer our clients an outstanding value.
If you are interested in this service please email us at [email protected].  Please include your photo and phone number. We try to respond same day or next business day. (Our office is closed on the weekends.) If you do not see a response email from us within 1 business day please check your SPAM folder.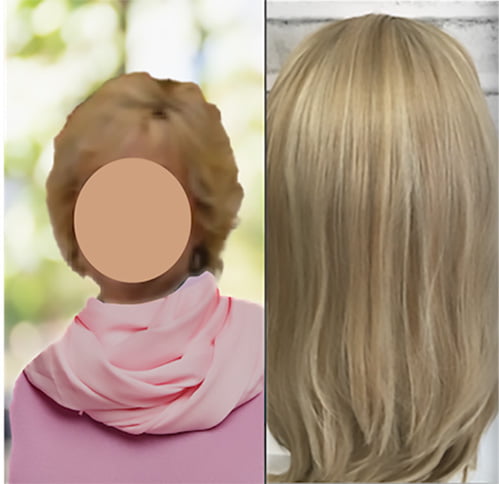 "I was initially disappointed that I could not have a home appointment and was skeptical of this service. But I understand Covid has changed so many things.  However, this actually worked out beautifully.  I feel comfortable. My stylist cut the wig last night.  She was impressed with the hair quality.  I love the feel of the hair, I am no longer afraid to lose mine.
Before/After client photos showing their own hair vs the wig we selected for them.
We have concealed their faces to protect their privacy.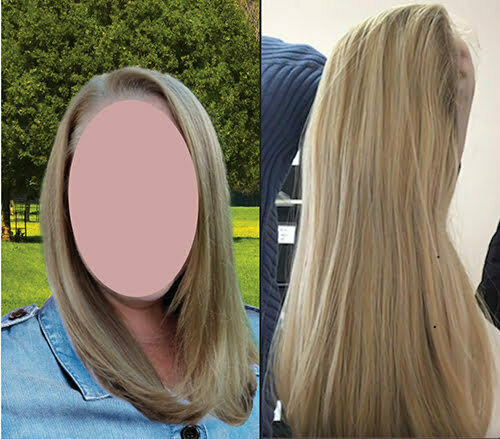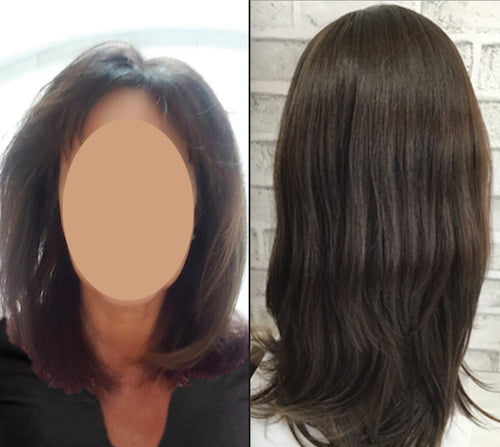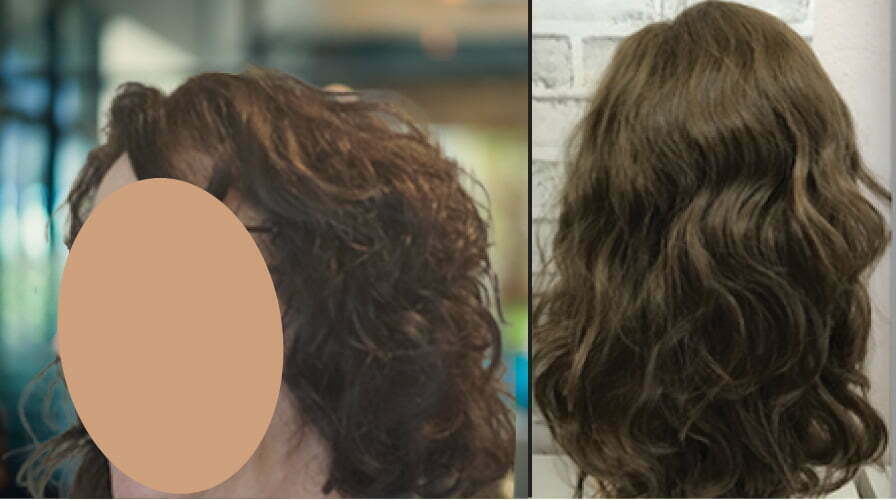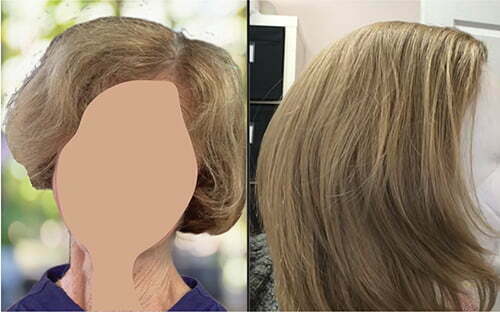 "As a woman who has had alopecia since my 20's I've  learned a lot about wigs over the years.  I was referred to Girl on the Go by a women who purchased a wig from you 2+ years ago. She was still wearing it daily and was happy with it.   I mentioned to her that the price of a  European Hair wig I had previously purchased elsewhere was now over  $5K.  She recommend you right then.  I gave you a try and I am so happy I did."
Since 2004 we have helped thousands of clients find Hair Happiness.
"Let Us Help You Remain Confident In Your Appearance So You Can Be
A Girl On The Go!"